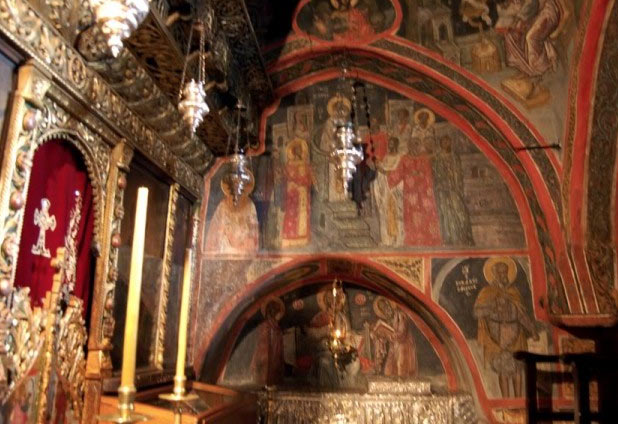 27 Nov

Patmos Port / Shore Excursion: Religious Highlights

From/To: Patmos Port

Duration: 4 hours 

Tour Description

Depart from the port of Skala by coach taking the coastal road passing the south end of the island to the Convent of Evangelismos, which lays in a beautiful setting surrounded by well-kept gardens with a spectacular view over the bay of Kipi.

The original chapel of St. Luke dates from 1613 and the Convent itself was founded in 1937. We have the opportunity to see a wonderful collection of frescoes painted by the nun Olympia who died within the last decade. This large Convent is a wonderful example of ecclesiastical architecture and houses an exhibition where examples of handicrafts made by the nuns can be purchased. Drive further to the old village of Chora, for a short walk through the winding cobbled streets and arrive at the tiny Convent of Zoodohos Pigi (The Spring of Life) built in 1607.

On one side of the cobbled courtyard is the chapel, where we discover an array of recently restored 17th century frescoes, the timeless art of the icon along with a beautifully carved icon wall. On the other is a small gift shop where one can purchase handicrafts made by the nuns. We will then continue by foot through a labyrinth of atmospheric lanes winding their way to the foot of the Monastery of St. John the Theologian built in the 11th century.

Here one can get a glimpse of monastic life and absorb timeless history through the magnificent ecclesiastical artefacts of its museum. Among the Monastery's treasures are frescoes of the founder Christodoulos and miracles of St. John, ancient documents dating from the 6th century, vestments, silverware and numerous icons including a work attributed to El Greco.

After a short coach ride we arrive at the Cave of the Apocalypse, home to the birth of the Book of Revelation, the last book in the Holy Bible. In the year 95 AD, at the time of the persecution of the Christians, St. John was exiled to the Island of Patmos where the vision of the Revelation was revealed to him in this small cave which has now become a place of worship and an important destination for pilgrims. After this memorable tour, embark the coach for the short ride back to the port.

**Important Notes:

-Respectable dress code for Monastery & Cave (shoulders and knees covered)

-Some walking; comfortable shoes required

-Cobble stone roads with steps involved

-Restroom facilities available

-Tour not suitable for passengers with walking difficulties or special needs.
## Prices per person for:

01 person:   580.00 €

02 persons: 290.00 €

03 persons: 218.00 €

04 persons: 165.00 €

05 persons: 140.00 €

06 persons: 117.00 €

07 persons: 100.00 €

08 persons:   90.00 €

## Prices include:

-Private, modern A/C taxi (up to 02 persons), minivan (up to 05 persons) or minibus.

-Professional, English speaking driver.

-Professional, English speaking guide.

-Entrance fees.

-VAT.