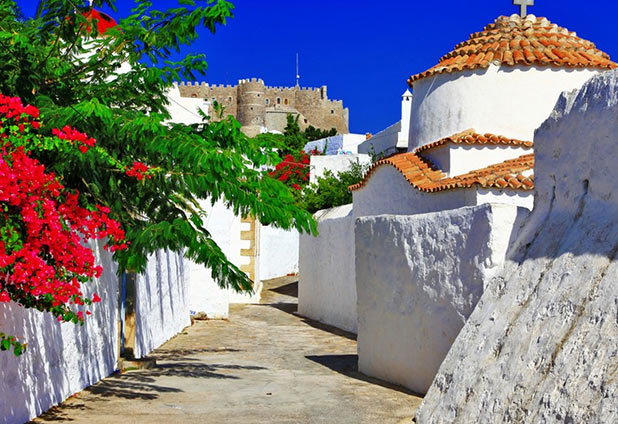 27 Nov

Patmos Port / Shore Excursion: Patmos Highlights

From/To: Patmos Port

Duration: 3-3½ hours 

Tour Description

This varied tour is perfect for those who want just a little bit more local taste. The tour visits the Cave of the Apocalypse home to the birth of the Book of Revelation, the last book in the Holy Bible. In the year 95 AD, at the time of the persecutions of the Christians, St. John was exiled to the island of Patmos, where the vision of the Revelation was revealed to him in this small cave that has now become a place of worship and an important destination for pilgrims.

By leaving the Cave, drive to the old village of Chora, high on the hilltop where one will have the opportunity to photograph the breathtaking panoramic view over the island and discover the stunning architecture of houses dating from the fifteen to eighteen hundreds.

Chora, the islands capital, houses the 11th century Monastery of St. John the Theologian. Here, guests can get a glimpse of monastic life and absorb timeless history through the magnificent ecclesiastical artefacts of its museum. Among the Monastery's treasures are frescoes of the founder Christodoulou and miracles of St. John, ancient documents dating from the 6th century, vestments, silverware and numerous Icons including a work attributed to El Greco.

From the Monastery, walk through the winding cobbled streets of Chora to the house of Simandiris, for the unique experience of seeing the interior of a traditional Patmian house along with antique furniture, embroidery, and paintings collected over 8 generations of the Simandiris family members. Before drive back to the port of Skala, conclude the tour with a walk through Chora and browse the open air shops.

 

**Important Notes:

-Respectable dress code for Monastery & Cave (shoulders and knees covered)

-Plenty of walking; comfortable shoes required

-Cobble stone roads with steps involved

-Restroom facilities available

-Tour not suitable for passengers with walking difficulties or special needs.

 
## Prices per person for:

01 person: 550.00 €

02 persons: 275.00 €

03 persons: 231.00 €

04 persons: 179.00 €

05 persons: 145.00 €

06 persons: 122.00 €

07 persons: 107.00 €

08 persons:   95.00 €

## Prices include:

-Private, modern A/C taxi (up to 02 persons), minivan (up to 05 persons) or minibus.

-Professional, English speaking driver

-Professional, English speaking guide.

-Entrance fees.

-VAT.