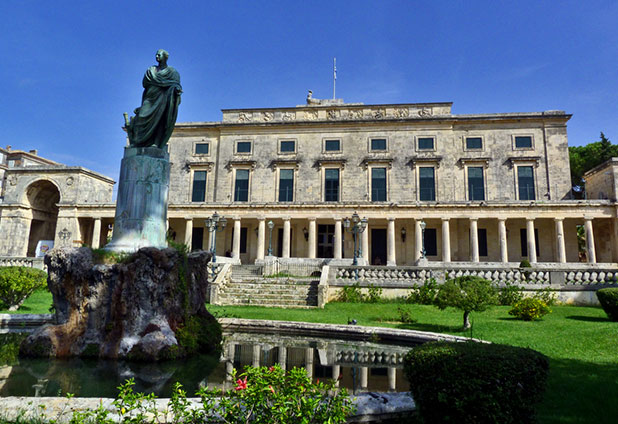 27 Nov

Corfu port / Shore Excursion: Corfu Town & Achillion Palace

From/To: Corfu port

Duration: 04 hours 

Tour Description

Depart from the port. Crossing small villages, half hidden among the olive groves, drive to the pretty village of Gastouri, which still retains some of the old world charm that inspired the Austrian Empress Elisabeth, to build her dream Palace in the 1890's, which dedicated to her favorite ancient Greek hero, the Homeric Achilles.

Have a walk through the romantic gardens, with its many statues and flowering shrubs, which has little changed since the days when Empress Sissy roamed its paths alone. Visit the chapel within the Palace and see a collection of souvenirs connected with Elisabeth of Austria and Emperor William of Germany who bought the Achillion in 1906.

Continue to Corfu town, for a walking tour in the square and into the narrow roads, to see the old fortress, the Esplanade with the cricket field, the Palace, the Old Town Hall and, the Square with their unique atmosphere. The Old Town lies on the northern side between the Esplanade Square and the new fortress. Ferries approaching the port of Corfu offer a magnificent view to this picturesque and beautiful town as it is located close by. The square of the Esplanade (also called Spianada) is the central square of Corfu Town and the largest square in the Balkans. It became a public square during the French occupation and was designed according to the French garden architecture, with many organized trees and flower pots. It is surrounded by sumptuous buildings, imposing monuments and an old Venetian fortress which marks the beginning of the modern town. Complete the tour, drive back to the cruise ship.
## Prices per person for:

01 person:  474.00 €

02 persons: 249.00 €

03 persons: 194.00 €

04 persons: 160.00 €

05 persons: 134.00 €

06 persons: 115.00 €

07 persons: 101.00 €

08 persons:   89.00 €

## Prices include:

-Private, modern A/C taxi (up to 02 persons), minivan (up to 06 persons) or minibus.

-Professional, experienced driver.

-Professional, experienced English speaking guide.

-Entrance fees.

-VAT