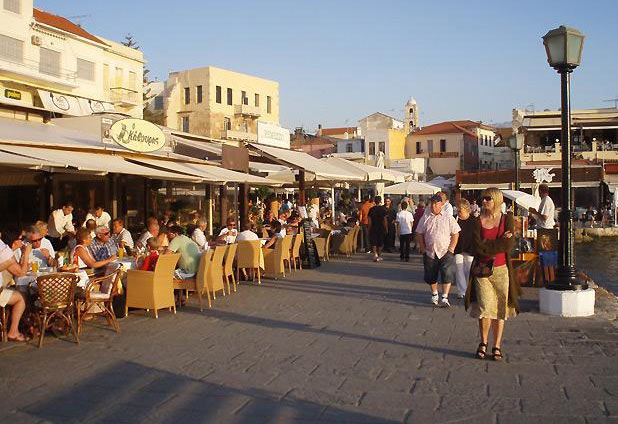 27 Nov

Heraklion Port / Shore Excursion: Chania City Tour & Photo Shooting to Akrotiri

From/To: Heraklion Port

Duration: 7 – 8 hours 

 

Tour Description

A great opportunity for visitors to see the city of Chania, built over the ruins of the ancient city of Kydonia. The beautiful city of Chania managed to preserve its original colors and historical character, despite the fast-growing tourist industry. It is considered as one of the most beautiful cities of Greece and the most picturesque city of Crete. The city of Chania is also characterized by a rich cultural life. A plethora of cultural events are organized every year (exhibitions, festivals, theatrical and musical performances, etc.)

 

An optional stop to the Nautical Μuseum will be proposed by the guide. Alternatively, you will have free time to enjoy walking in the port, which provides pleasant promenades through picturesque streets and attracts many visitors throughout the year. Narrow passages surrounded by elegant houses built in different historical periods offer visitors pleasant routes to discover. There are also many bars and restaurants by the seaside for every taste.

Conclude the tour with a photo-shoot ride to Akrotiri (literally "promontory"), a peninsula whose ancient name was "Kiamon", while its Byzantine was "Charakas". The earliest history of the local area is related to the founding of the nearby ancient city of Kydonia, one of the most powerful cities of ancient Crete. At this site, the Greek flag was raised in defiance of the Turks and the Great Powers, with the peninsula acting as a headquarters of the Cretan Revolution against the Turks. In modern times, the tombs of the great politician Eleftherios Venizelos and his son, Sophocles, can be found on Akrotiri. After the end of the tour, return to Heraklion port and the cruise ship.

 
## Prices per person for:

01 pax: 812.00 €

02 pax: 407.00 €

03 pax: 272.00 €

04 pax: 205.00 €

05 pax: 163.00 €

06 pax: 137.00 €

07 pax: 117.00 €

08 pax: 102.00 €

## Prices include:

-Private, modern A/C taxi (up to 02 persons), minivan (up to 06 persons) or minibus.

-Professional, experienced English speaking guide.

-VAT.